YZLXQ120 Combined Oil Press with Filter
Product Detail
Production Case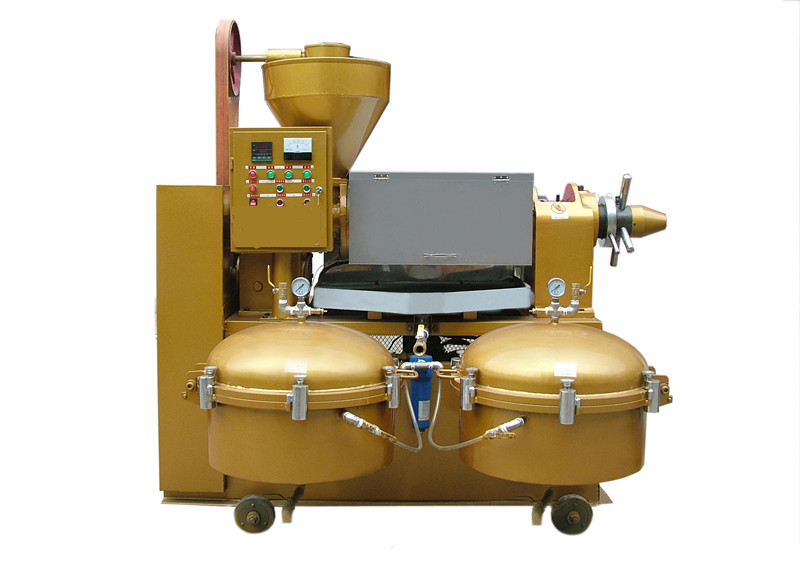 The automatic temperature control precision filtration COMBINED OIL PRESS WITH FILTER produced by our company is suitable for squeezing vegetable oil from rapeseed, cottonseed, soybean, shelled peanut, flax seed, tung seed, sunflower seed and palm kernel, etc. Combined oil press with filter has characteristics of small investment, high capacity, strong compatibility and high efficiency. Combined oil press with filter is widely used in small oil refinery and rural enterprise.
The series YZLXQ120 (-8,-9) automatic temperature control precision filtration combined oil press with filter are new products developed on the basis of single machine to meet the market demands. The function of auto-heating the press cage has replaced the traditional way by squeezing residue cake, which could shorten the preparation work, reduce the energy consumption and machine's abrasion. When the squeezing is suspended, the temperature can be maintained by this system. In the meanwhile, this machine was added with filtration function. The crude oil flowing out from the press cage will directly be filtrated by the air pressure filtration machine. The air pressure filtration machine is new filtration equipment. It makes use of the compressed air as filtration force. The ability is strong. It overcome the shortage of the small filtration force of the vacuum filtration machine, can achieve precise result. The structure of this oil press is compact, only requires a small working place and saves labor investment. Combined oil press with filter is ideal equipment for medium or small oil refinery and enterprise to processing edible oil.
YZLXQ120 Combined Oil Press with Filter is basic 2 step squeezing spiral oil press.
YZLXQ120-8 Combined Oil Press with Filter is 3 step squeezing spiral oil press. Beside of the characteristics of YZLXQ120 (2 step squeezing), its squeeze cage has stronger force. Users could obtain better economic profit when operate it properly. It is suitable for users with operation experience and stresses on low oil content in cake.
YZLXQ120-9 Combined Oil Press with Filter is 4-step squeezing model, independently developed by our company after investigating the market. The pressure in its press cage is even bigger than that of YZLXQ120-8. Tests proved that the squeezing result is better.
Combined Oil Press with Filter Main technique features:
Below features are based on oil plants with above average quality smoothly and continuously hot squeezed with all auxiliary equipments after good pretreatments, such as screening, husking, flaking and cooking, etc.
Oil Plants

Processing Capacity (t/24h)

Oil content of

Dry cakes (%)

Oil yield

Efficiency (%)

Electricity Consumption (k.W.h/t)

Rapeseed

≥6.5

≤7.6

≥82

≤40

Cotton seeds

≥6.5

≤6.8

≥77

-

Soybean

≥5.5

≤6.5

≥67

≤56

Groundnut

≥6.5

≤6.5

≥92.3

≤39
Note:
① It is normal that sometimes the actual results may be a little different from those in the index, for the oil plant's type, quality and original content may be different in different areas.
② The processing capacity will decrease if use cold press to press more than one time. The more the squeeze times, the lower the capacity and the more the electricity consumption.
Combined Oil Press with Filter Technical Specification:
| | |
| --- | --- |
| Items | YZLXQ120(-8,-9) |
| Revolving speed of spiral axis (r/min) | 34 |
| Power of main electromotor (kW) | 15 |
| Electrical power of filtration machine (kW) | 1.5 |
| Power of temperature controlling (kW) | ≥4.0 |
| Measurement (mm) | 1948*1522*1915 |
| Weight (kg) | 1115 |
YZYX120SLWZ with Water Cooling System Combined Oil Press Machine Instructions video: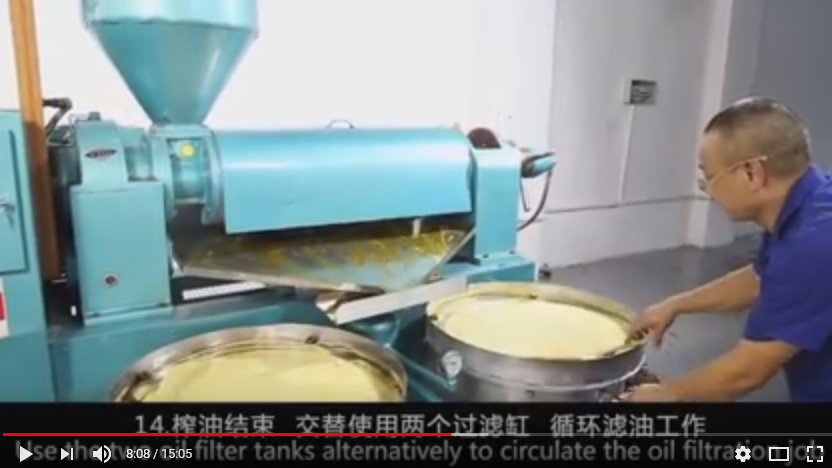 ---
Previous:
YZYX70ZWY Integration Oil Press
---