10-20T/D Edible Oil Production Plant
Product Detail
Production Case
Wintone Machinery is specialized in customizing y edible oil production lines. The 10-20T/D edible oil production line is suitable for small workshops or small oil factory. Various machines are available for your oil seeds pretreatment, oil seeds pressing, crude oil refining and refined oil packing.
We can produce all kinds of edible oil line, which is suitable for palm oil, peanut oil, soybean oil, cotton oil, sunflwoer oil, corn oil, rice bran oil and other kinds of edible oil.

Main Machines for 10-20T/D Edible Oil Production Plant:
1. Oil Seeds Screw Conveyor
Screw conveyor is suitable for conveying oil seeds from one place to another place, or from lower place to upper place. It can be chosen to increase working efficiency and saving labor. It is typical of simple structure, low cost, good airproof and easy operation.
2. Oil Seeds Cleaning Machine
We provide oil seeds cleaning machine for you to remove the impurities in the oil seeds. The machine use sieving method to remove coarse and fine impurities. It has compact structure and small floor space.
3. Oil Seeds Roasting Machine
Hot pressing can reach high oil yield and give oil fragrant flavor. We provide rotary drum oil seeds roasting machine with various capacity.
4. Integrated Oil Press Machine
Integrated screw oil press is equipped with automatic temperature control system and oil filtering device, having both pressing and filtering function. Adopting mechanical pressing methods, the oil is edible without any chemical solvent.
5. 1-5T/D Edible Oil Refining Plant
1-5T/D oil refinery equipments are recommended for small oil plant to get high grade edible oil of good color and high quality. As oil yield is different for different oil seeds, the capacity required for refinery will differ too. If you are processing 20 tons soybeans, we suggest you to install 1-3T/D refinery plant. For 20 tons sunflower seeds, 5T/D refining line is suggested.
6. Edible Oil Filling and Packing Machine
Refined oil can be packed and sold to supermarkets. We provide semi-automatic and full automatic filling machine for quantitative filling of various oils. We can produce biodiesel plant/equipment/machines also. On the other hand, our factory import many advanced technology to strengthen ourselves and ensure our customer's right.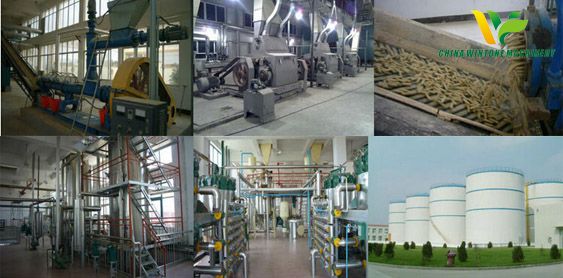 Edible Oil production Line Designed by Our Factory Has the Follow Advantages:
1. Suitable for peanuts, sunflower seeds, soybean, sesame, palm kernel, copra and other oilseeds.
2. Highly automatic machines save time and labor.
3. High oil yield and low residuals.
4. Low investment, energy saving.
5. All oil processing machines can be customized as per your requirement.
Please kindly inform us your required daily capacity, treated quantity, raw material, covering space and related data, so that we can make flow chart production line for you as your requirement. We will stand at your point to suggest low cost and suitable edible oil production line for you.

---
Previous:
Cottonseed Oil Pressing Machine
---