Peanut Sheller Machine
Product Detail
Production Case

Peanut Sheller Description:
Peanut Sheller is designed to shell peanuts and is a main integrated part of the shelling system with high efficiency, high capacity and minimum split creation. The shelling grates or concaves are easy to change out and can be sharpened as they become dull with wear. Wintone Machinery designs the PEANUT SHELLER MACHINE with ease of operation and low maintenance in mind. The peeling system of the peanut machine is composed of pattern rod drum bar concave boards, consisting of pattern rod drum, bar concaved board, feeding hopper, fan, gravity sorting sieve, second hoist, frame, etc.
In working, peanuts are feeding into the peeling cavity which consists of main drum bar concave boards from the feeding hopper. The peanuts are peeled by the rubbing force between pattern plate drum and bar concave boards. When passing the duct, most peanuts shells are blew out of the machine by wind. Peanut kernels and some unpeeled peanuts fall into the sorting sieve. After screening, kernels on the separation sieve enter the reception device through the kernel output mouth (sacks or other containers); whereas the unpeeled little peanuts enter into the hoister from the sieve surface, and enter the second drum bar concave board; the system carries out peeling and enter gravity sieve to achieve entire peeling.Peanut Sheller is one of the part of the peanut oil pretreatment process.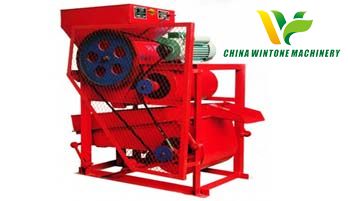 Peanut Sheller Features:
1. The peanut sheller has reliable quality, excellent performance;
2. Low rate of processing of peanut crushing, clean sorting, good color, low impurities;
3. The performances are better than the national standerd.
The peanut sheller machine is suitable for peanut peeling of grain storage, individual specialized households, grain and oil processing plant and food industry, among the new peanut deep processing machinery is suitable for promotion.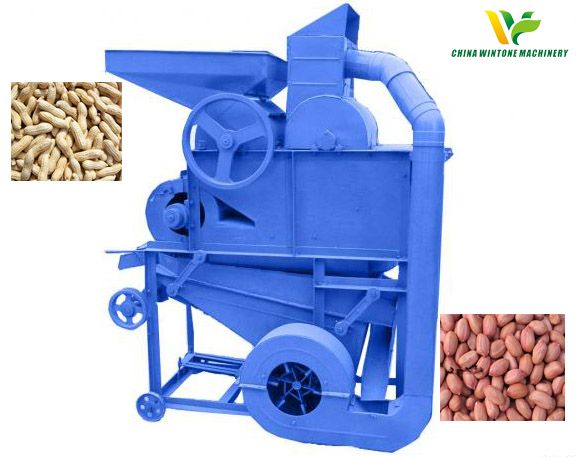 We can supply design, manufacture, installation, calibration and after service of Cotton seed Sheller for peanut oil pretreatment process.

---
Previous:
bucket elevator bucket conveyor
---