Corn Germ Oil Refining Workshop
Product Detail
Production Case
Corn germ is a traditional kind of material for making edible oil. The whole corn oil refining plant contains three workshops: corn germ pretreatment workshop, corn germ oil extraction workshop and corn germ oil refining workshop/Line.
Craft flow for corn germ oil refining workshop:
Crude corn germ oil → degumming and deacidification→ decolorization →deodorization
→ refined corn germ oil.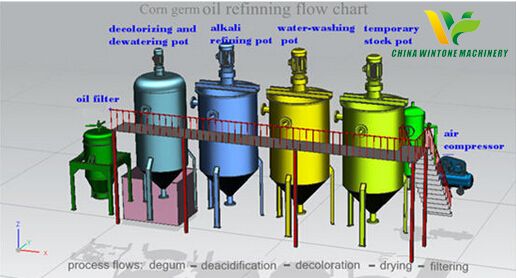 Main Process of corn germ oil refining process workshop:
1). Degumming and deacidification: The gumming is moved by phosphoric acid and hot
water. There are two ways to move the acid in the corn germ oil. One is chemical way, the
other one is physical way. The chemical way is using NaOH to react with acid. This way is
suitable for the capacity of 5-30T per day. The physical way is using steam and centrifugal
to move the acid. This way is used for capacity from 30-2000T per day.

2). Decolorization: This step is used to adjust the color of the oil. You can control the color of the corn germ according to the requirement of your market.

3). Deodorization: The function of this step is to move the special smell in the oil. This is an
important standard for refined oil.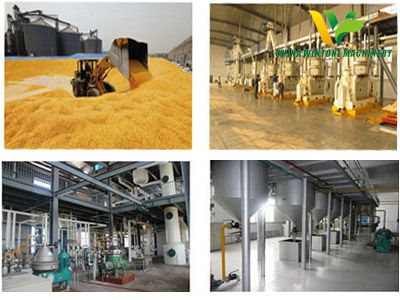 Units devices of corn germ oil refining workshop:
(1). Refining pot: used to P-acid de-gumming, alkali refining de-acid and water rinsing.
(2).De-color pot: used to remove off pigments, bleaching oils and grease de-hydrate.
(3).De-odor pot: used to remove off oils odor, foreign smells (stainless made)Heat-transfer oil stove: supply each device production needing heat energy, temperature reach above 280 ° C.
(4).Steam generator: produce the needing steam for de-odoring and distillation.
(5).Vacuum pump: supply needing vacuum for dehydrate, de-color, de-odor. Vacuum degree can reach above 755mmHg.
(6).Press filter: filter clay, filter out clear oil.
(7).Air compressor: blow dry bleached clay, blow empty the leftover oil in
the press filter.

Wintone Machinery as a oil refining process plant supplier can provide design, manufacture, installation, calibration and after service of corn germ oil refining workshop.

---
Previous:
Peanut Oil Refining Equipment
---