Plate Oil Filter Press
Product Detail
Production Case
Plate oil filter press Win Tone produced is qualified the technology requirements of the IB/T 4333-1997 the pressure oil-filter in compartmental and plate type. Win Tone supplies a wide range of filter press machines designed to give maximum filtration efficiency, longer service life and less maintenance. The filter presses are available in different sizes and various capacities. We can also provide oil filter presses to custom specifications.
The filter press is composed of three main parts: frame, filter plate and pressing device.
The filter press operation includes the following steps:
1. Closing of the press: as the filter is completely empty, the moving head activated by the jacks calmps the plates.
2.Filling: For sludge having good filter ability it is best to fill the filter very quickly so as to avoid the formation of a cake in the first chamber before the last ones have been filled.
3.Filtration: When the filtration pump has stopped, the filtrate circuits and central duct, which is still filled with liquid sludge, are purged by compressed air.
4.Filter opening: The moving head is drawn back to disengage the first filtration chamber. The cake falls has a result of his own weight. A mechanised system pulls out the plates one by one.
5.Washing: Washing of clothes should be carried out every 15-30 processing oprations. For mid- or large units this take place on press using water sprayers at very high pressure (80-100 bar).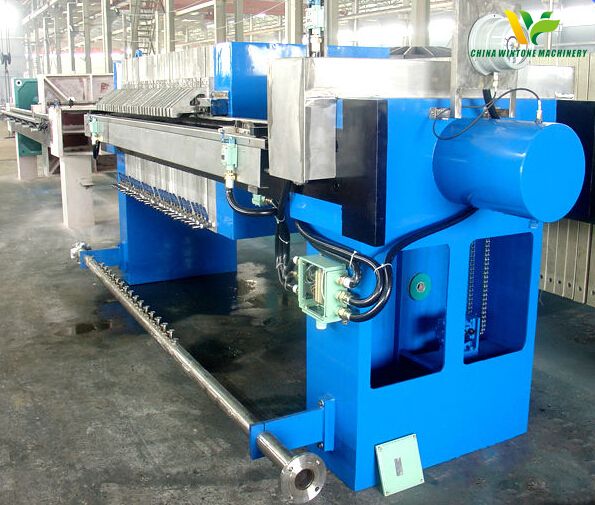 Plate Oil Filter Press advantages:
1.Reliable in performance, convenient in maintenance
2.Easy to operate, safe and labor saving
3.The whole filter press system are auto controlled by the electrical panel.
4.Adoptting hydraulic pressing system, with automatic plate shifting method.
5.Hydraulic pressing can be selected for squeezing filter plate,this process is designed for reducing moisture content in cake.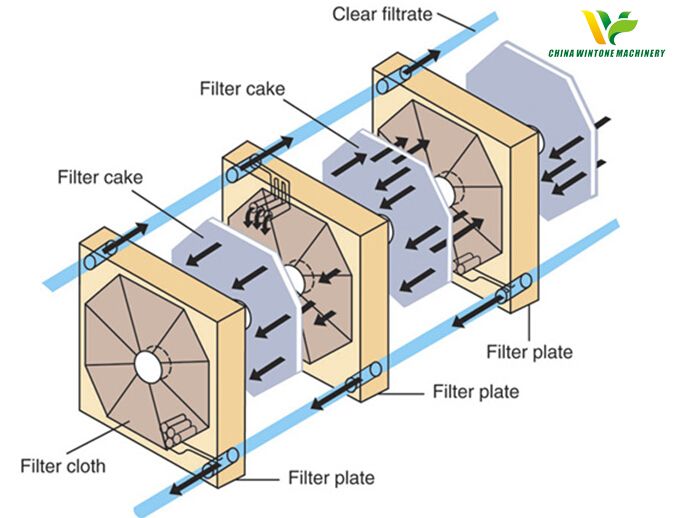 Matters Need Attention When Using an Oil Filter Press:
1.All the pipe clips should be tightened to prevent leakage of the oil.
2.Filtering cloth should be put between the filter plates, then lightened by tension bolt to make sure no leakage exists.
3.Oil will be expelled 2 or 3 minutes after starting the machine under normal operation. If no oil exits the oil press, please stop the machine or inspect oil pipe for blockage.
4.The valve is mounted for use when the filtering cloth becomes torn or the oil looks becomes dirty.

---
Previous:
Continuous Chain Dryer
---