Soybean Isolate Protein Machine
Product Detail
Production Case
Soybean protein isolate is a kind of protein food additive, made from low temperature soybean meal. Its protein content is above 90%, and nearly 20 kinds of amino acid, including essential amino acid with abundant nutrients.

Protein isolate is obtained by alkaline extraction and acid precipitation. The procedure is as follows: extraction of defatted meal with alkali liquor, centrifugal separation of indissoluble material in the meal (mainly polysaccharides), adjusting of leach liquor PH to the isoelectric point of protein with acid. When the protein achieves the isoelectric point, the protein coagulates and settles down. Finally, the protein precipitate after separation needs washing, neutralizing and drying.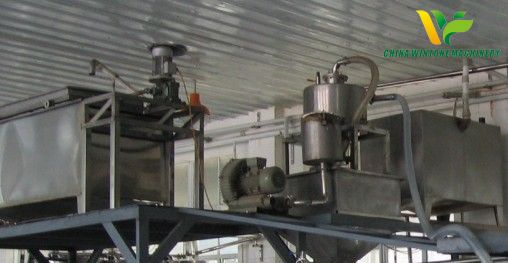 Soybean Protein Isolate Machine advantages:
1. stable operation;
2. low solvent consumption;
3. low production cost;
4. high oil yield ;
5. high protein content;
6. low residual methanol content.

Soybean Protein Isolate Machine main specification: 1~1000T/D
Soybean Protein Isolate Machine Main Equipment: acidification tank, washing tank, spray drying tower, centrifuge, etc.
We can provide design, manufacture, installation, calibration and after service of soybean isolate protein machine/plant.

---
Previous:
Food & Feed Protein Technology
---