Rapeseed Oil Refining Plant
Product Detail
Production Case
Main Specification: 30~1500T/D
The main Parts of rapeseed refinery oil process:
Crude oil→degumming→ deacidify→ bleaching→ deodorization → Heat-transfer oil stove→ Steam generator→ Vacuum pump → Press filter→ Air compressor
1. Crude oil: crude oil is commonly used for processing into edible oil .For example: palm oil,Sunflower oil,sesame oil,cotton seed oil,peanut oil,rice bran oil,palm oil,coconut oil,soybean oil,apeseed oil,mustard seed oil,etc.
2. Degumming :Usded to neutrilizing ,and water washing,to rid off the acid .
3. deacidify : Acid stripping is removing hair oil contained in the free fatty acid process, acid stripping methods of alkali refining, steam distillation, solvent extraction, etc.
4. bleaching :Used to rid off the color of the oil
5. Deodorization:Used to rid off the fetid smell/odour of oil by steam understand of high temperature.
6. Heat-transfer oil stove: supply each device production needing heat energy, temperature reach above 280°C.
7. Steam generator: produce the needing steam for de-odoring and distillation.
8. Vacuum pump: supply needing vacuum for dehydrate, de-color, de-odor. Vacuum degree can reach above 755mm Hg.
9. Press filter: filter clay, filter out clear oil.
10. Air compressor: blow dry bleached clay, blow empty the leftover oil in the press filter.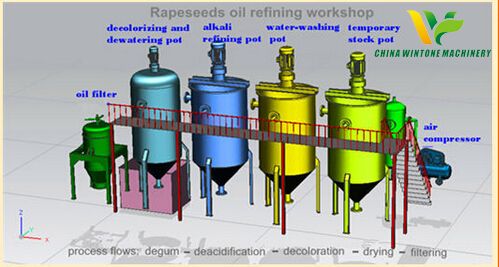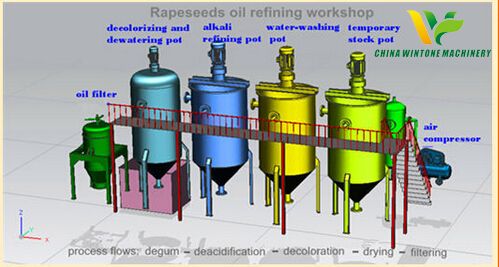 Rapeseed oil refining plant applies to rapeseed oil, soybean oil, cotton seed oil, camellia seed oil, corn germ oil, rice bran oil, sunflower seed oil, etc.

Rapeseed oil refining plant includes: degumming tank, neutralizing tank, centrifuge, heat exchanger, decolorization tower, deodorization tower, etc.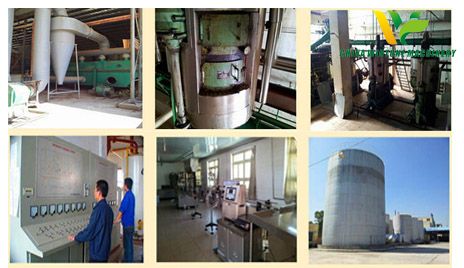 The characteristics of our edible oil processing equipment are as following:
(1) Super-wet degumming;
(2) Carclazyte frequency dosing automatically;
(3) Negative bleaching total mixed;
(4) High-vacuum steam ejection deodorization;
(5) Fully auto-control system;
(6) Freezing water vacuum system
We can provide design, manufacture, installation, calibration and after service of edible oil processing equipment.

---
Previous:
Soybean Oil Refining Plant
---