Rice Bran Oil Processing Plant
Product Detail
Production Case
Many countries in the world grow rich rice two or three seasons every year, and abundant rice bran is also produced at the same time. But rice bran in many places is burned as fuel or used as fertilizer, even piled up there for long time, which is easy to cause fire disaster, that's the biggest waste.
Rice bran contents 16%-20% oil, it is one of the three health oil recommended by WHO. Its price is much higher than other normal oil. Our team is willing to be your considerate consultant to help you extract the max oil from rice bran, and make the waste rice bran into fortune.
There are four main sections to make rice bran oil: rice bran pretreatment section, rice bran oil extraction section, rice bran oil refinery section and rice bran oil dewaxing section. The flow chart is as following:
Raw material (rice bran) →magnetic separation →floury product separation →quenching and tempering →puffing(extrusion machine)→drying and cooling →solvent extraction plant →refining plant →dewaxing plant →high quality refined oil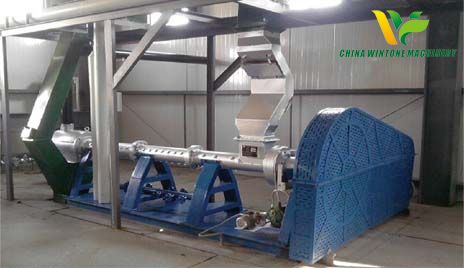 The brief introduction of rice bran oil processing plants:
a. Pretreatment plant makes the rice bran into pellet for easy and max oil yield.
b. Transporting pretreated rice bran into solvent extraction plant, using the solvent (normal hexane) to absorb the oil from rice bran, and then the machines separate the solvent from the oil, the solvent used for recycling and the crude rice bran oil goes into refining plant. After extraction, the resid oil in rice bran can be lower than 0.8%.
c. Crude rice bran oil refining
d. Dewaxing for high quality oil.
---
Previous:
Automatic Screw Oil Expeller
---