Spiral Oil Press Machine
Product Detail
Production Case
Automatic Spiral Oil Press Machine Description:
Automatic Spiral oil press machine is composed of such components as electric appliance control, hot pressing, adjustment, driving and vacuum oil filter. The squeezing worm is made of alloy steel treated by carburization to improve its surface hardness and wear resistance; the squeezing bars are grinded by surface grinder to ensure the accuracy of oil thread and improve oil extraction rate; the standard components for power distribution, vacuum and heating are famous brands to optimize machine configuration.
The disadvantage of traditional oil pressing methods: include the original workshop, simple and crude equipment, hulking operation, large floor area, high energy consumption, low oil extraction rate and bad hygienic conditions.Wintone Automatic Spiral oil press machine Advantage: advanced design, reliable performance, simple operation and convenient maintenance.
How does screw oil press work?
Screw oil press machine that presses oil seeds through a caged barrel-like cavity. Raw materials enter one side of the press and waste products exit the other side. The machine uses friction and continuous pressure from the screw drives to move and compress the seed material. The oil seeps through small openings that do not allow seed fiber solids to pass through. Afterward, the pressed seeds are formed into a hardened cake, which is removed from the machine.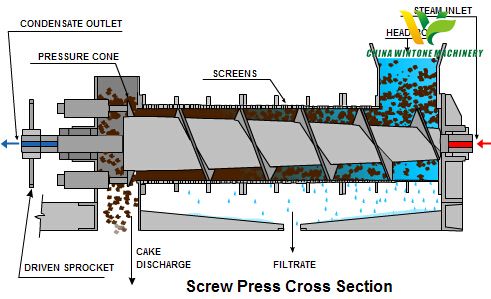 Automatic Screw Oil Press Machine Feature:
1. Saving labor: it can save 60% labor for equal output and 40% labor cost per day for one or two people are able to make production.
2. Widely-used: The oil mill machine can be used to completely press more than 20 kinds of crops such as peanuts, sesame, vegetable seeds, soybean, oil sunflower and flax by three stages pressing, low residual oil ratio.
3. Pure oil quality: the vacuum oil filtering is used to remove residue so as to ensure the pure oil quality and meet the standard of health quarantine.
4. Small land-using: am area of 10~20 m2 workshop can meet the demands of oil processing.
Automatic Spiral Oil Press Machine Main Technical Parameters:

Model

Parameter

D-1685

D-1688

ZL-120

6YL-130

6YL-165

Diameter of Squeezing worms(mm)

80

100

120

130

160

Speed of Squeezing worms(r/min)

60

40

36

36

35

Diameter of Internal Circle of pressing Chest(mm)

82

102

122

132

162

Configuration Power

Main Engine(kw)

6-5.5

6-7.5

6-11

4-18.5

4-22/30

Heater(kw)

3

3.5

4

6

6

Handling capacity(kg/h)

80-160

150-260

160-400

400-500

500-650

Weight of Complete Machine(kg)

780

1100

1500

1900

2000

1700×1300×1600

2000×1400×1750

2000×1550×1800

2250×1600×1850

2300×1700×1900
We can supply design, manufacture, installation, calibration and after service of
Screw Oil Press Machine
.

---
Previous:
Back to list
---