Cottonseed Oil Refining Plant
Product Detail
Production Case
Oil refining is according to the different usage and requirements, utilizing the physical methods and chemical processes to get rid of the harmful impurities and needless substance in the crude oil, getting standard oil.
Continuous Cooking Oil Refining Process Introduction
Alkali hot water
Crude oil→filter→mix→reactor→mix→reactor→centrifugal separation→oil residue
↑ ↓
Phosphoric acid hot water→mix ↓
↓
degumming oil←cooler←dry←centrifuge separation←mix←alkali liquor
↓ ↓
↓ vacuum steam jet pump←steam citric acid
↓ ↓
bleaching earth→mix→decoloring→filter→decoloring oil→mix→heat
↓
refined oil←filter←cool←deodorizing←vacuum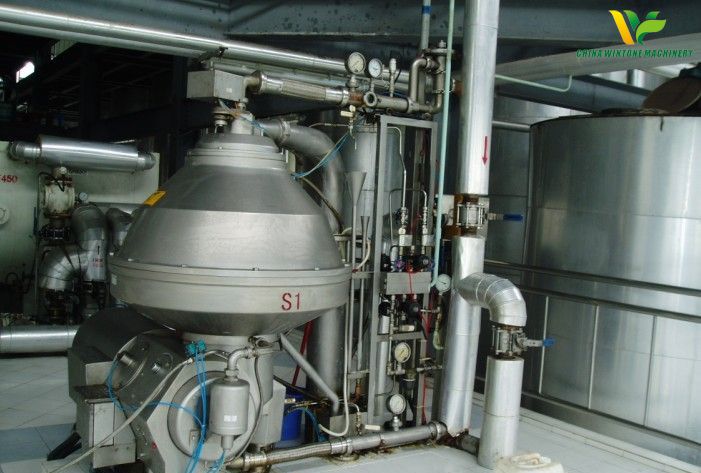 Cottonseed Oil Refining Plant Main Equipment: degumming tank, heat exchanger, decolorization tower, filter, dedorization tower, etc.
Main Specification: 30~1500T/D
Cottonseed oil refining equipment applies to cotton seed oil, soybean oil, rapeseed oil, camellia seed oil, corn germ oil, rice bran oil, sunflower seed oil, etc.
The characteristics of our cooking oil processing plants are as following:
(1) Super-wet degumming;
(2) Carclazyte frequency dosing automatically;
(3) Negative bleaching total mixed;
(4) High-vacuum steam ejection deodorization;
(5) Fully auto-control system.
Wintone as a professional edible oil refinery plant manufacturer can provide design, manufacture, installation, calibration and after service of cottonseed oil refining equipment and other cooking oil processing plants.

---
Previous:
Rapeseed Oil Refining Plant
---