Deodorization Tower
Product Detail
Production Case
Oil Deodorization Tower applies to soybean oil, cotton seed oil, rapeseed oil, camellia seed oil, corn germ oil, rice bran oil, sunflower seed oil, edible oil processing.

The characteristics of our Oil Deodorization Tower are as following:
(1) Using the stainless steel structured corrugated packing, it enlarges the specific surface area of steam and oil, with a good mass transmission. It also shortens the residence time of oil in the tower, and effectively reduces the content of trans fatty acids. Finally, it keeps the good quality of refined oil.
(2) Some pigments and hydroperoxides can be decomposed under high temperature, that can improve the oil's flavor, taste and color;
(3) With the huge specific surface, mass transmission between oil and steam can be more effective. Then it can reduce the steam consumption of stripping and vacuum system (50%~70% steam can be saved);
(4) During the deodorization process, the physical deacidification can be realized, without any waste water. It is high efficient and environment protection;
(5) Compact construction, small floor area, low cost of architecture and installation, it is easy to maintain and transport.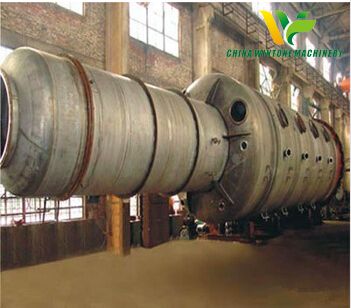 Wintone Machinery is a leading enterprise specialized in the technology design & research and engineering construction of oil preparation, oil refining & fractionation. After years of practice, we have won a high reputation and accumulated solid strength. We have undertaken more than 100 construction projects around the world.
We can provide design, manufacture, installation, calibration and after service of Oil Deodorization Tower.

---
Previous:
Decolorization Tower
---