Sunflower Seed Oil Refining Machine
Product Detail
Production Case
Introduction of crude Sunflower seed oil refining machine
The process of Sunflower seed oil refining is to refine the crude Sunflowerseed oil, to remove gossypol, protein, phospholipid, grume, moisture and other impurities, in order to reach the purchase of food and storage.
According to different raw materials, the process of Sunflower oil refining includes mechanical refining method, chemical refining method and physical refining process refining process.
Main process of the crude sunflower edible oil refining :
1. Crude Sunflower oil degumming process,
2. Crude Sunflower oil deacidification/neutralization process
3. Crude Sunflower oil decoloring process
4. Crude Sunflower oil deodorization/distillation(deodorising unit) process
5. Crude palm/corn/rice bran oil dewaxing(fractionation) process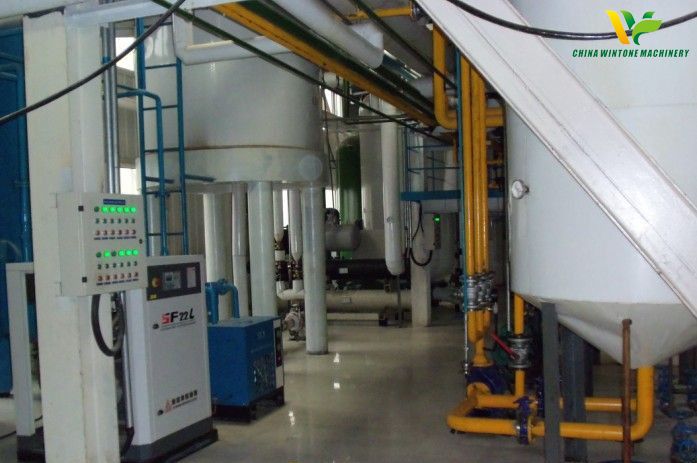 Main Equipment: degumming tank, nentralizing tank, centrifuge, heat exchanger, decolorization tower, filter, dedorization tower, etc.
The refining machine can process different kinds of raw crude Sunflower oil such as Crude Sunflowerseed oil refining, crude sunflower oil refining, crude peanut(groundnut) oil refining, crude rapeseed oil refinery, CPO refining, crude rice bran oil refining, crude corn oil refining and other crude edible oil refinery.

Wintone Machinery is a leading enterprise specialized in the technology design & research and engineering construction of oil preparation, oil refining & fractionation. After years of practice, we have won a high reputation and accumulated solid strength. We have undertaken more than 100 construction projects around the world.
We can provide design, manufacture, installation, calibration and after service of sunflower seed oil refining machine.

---
Previous:
Rice Bran Oil Refining Process Plant
---