YZYX120SL Water-Cooling Spiral Oil Press
Product Detail
Production Case
The series YZYX120 WATER-COOLING SPIRAL OIL PRESS produced by our company is suitable for squeezing vegetable oil from rapeseed, cottonseed, soybean, shelled peanut, flax seed, tung oil seed, sunflower seed and palm kernel, etc. Water-cooling spiral oil press has characteristics of small investment, high capacity, strong compatibility and high efficiency. Water-cooling spiral oil press is widely used in small oil refinery and rural enterprise.
The product conforms to the "Technology Standard of Agricultural Spiral Oil Press" under JB/T9793·1-1999 of the People's Republic of China.
Recently, after times of experience and tests, our company has independently developed new lengthened 3 step squeezing spiral oil press machine YZYX120J-12 and 4 step squeezing spiral oil press YZYX120J. Their squeezing force is bigger; the oil plants can be squeezed in the chamber for a longer time. In the meanwhile, without increasing the electric power, the day capacity is bigger, the oil yield efficiency is higher, the oil rate in the cake is lower (5.5% is the best value). This series of machine save energy consumption, save land source and energy, increase social benefit, meet the market demand and have a big market.
YZYX120SL Water-Cooling Spiral Oil Press automatic temperature controlling and water cooling spiral oil press is developed on the basis of YZYX120J, added with electric heating instrument and recycling water cooling system to control press chamber's temperature in order to extract oil under thermal situation. The press chamber' force can be maintained stable (between 120℃ to 140℃ according to different oil plants' requests), avoiding the protein change too much than needed and the oil plants get burnt as the temperature getting too high after long term and continuous squeezing. Consequently, the oil yield efficiency can be increased and the vitamin, fat acids, mineral and other nutrients get lost. At the same time, it increases the value of the cake, automation. The structure is compact, the operation and maintenance is easy. This model has obtained national patent (patent number ZL201020677033.7).
Above models do not have cake cracking device. The models with that will have S at the end of the model number. 120 series with electric heating instrument has WK at the end of the model number.
Water-Cooling Spiral Oil Press Main Features:

Below features are based on oil plants with above average quality smoothly and continuously squeezed after good pretreatments, such as screening, husking, flaking and cooking, etc.
Oil Plants


Processing Capacity(t/24h)

Oil content of

Dry cakes (%)

Oil yield efficiency (%)

Electric power consumption (kw.h/t)

Rapeseed

≥7.0

≤7.0

≥85

≤35

Cotton seeds

≥7.0

≤6.5

≥82

≤55

Soybean

≥6.0

≤6.0

≥70

≤52

Peanut

≥7.0

≤7.0

≥91

≤35
Note:
① It is normal that sometimes the actual results may be a little different from those in the index, for the oil plant's type, quality and original content may be different in different areas.
② The day capacity (t/24h) is based on using hot way to squeeze one time. If use cold way to squeezing two or three times, the day capacity will be 1/2 or 1/3 time less accordingly. The more the squeeze times are, the lower the date capacity is.
Water-Cooling Spiral Oil Press Technical Specification:
Model number

YZYX120J(-12)

YZYX120SL(-12)

Revolving speed of spiral axis(r/min)

37-45

Power for squeeze(k.W)

11 or 15

Power for temperature controlling(k.W)

/

1.5

Power of cooling system(k.W)

/

0.12-0.16

Measurement(mm)

2110x780x1350

2150x1100x1350

Weight(kg)

718

808



YZYX168 Water-Cooling Rapeseed Oil Pressing Machine Video: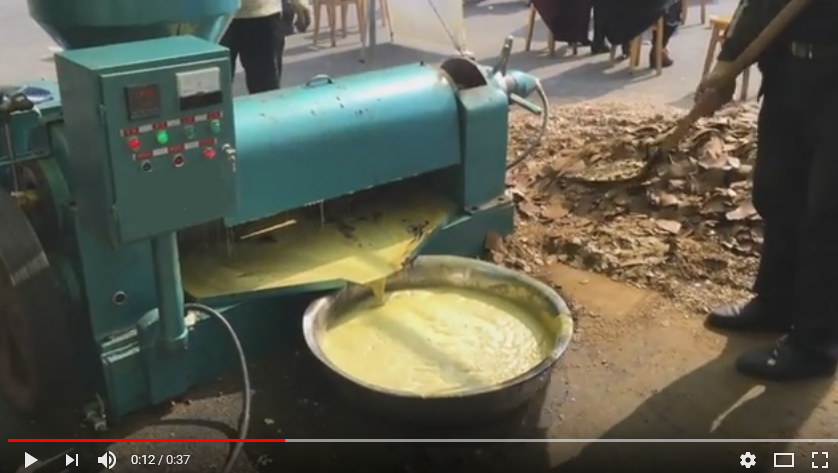 ---
Previous:
YZYX130 Spiral Oil Press Machine
---