Screw Oil Press
Product Detail
Production Case
Screw oil press is a screw-driven oil making machine that used to extract oil from seeds and kernels for edible or biofuel purposes. Screw oil press machines designed by our factory advanced expeller which is widely used in pressing oil from vegetable oil seeds,such as soybean, peanut, sunflower seeds, cotton seeds, sesame, tea seeds, copra, jatropha seeds, castor seed ,etc. A screw type oil making machine that presses oil seeds through a caged barrel-like cavity. Raw materials enter one side of the press and waste products exit the other side. The machine uses friction and continuous pressure from the screw drives to move and compress the seed material. The oil seeps through small openings that do not allow seed fiber solids to pass through. Afterward, the pressed seeds are formed into a hardened cake, which is removed from the machine.
Screw Oil Press has follow advantages:
1. High efficiency,
2. Low consumption,
3. Simple operating,
4. Stable function,
5. Easy maintainence,
6. Hgh productivity and high oil output.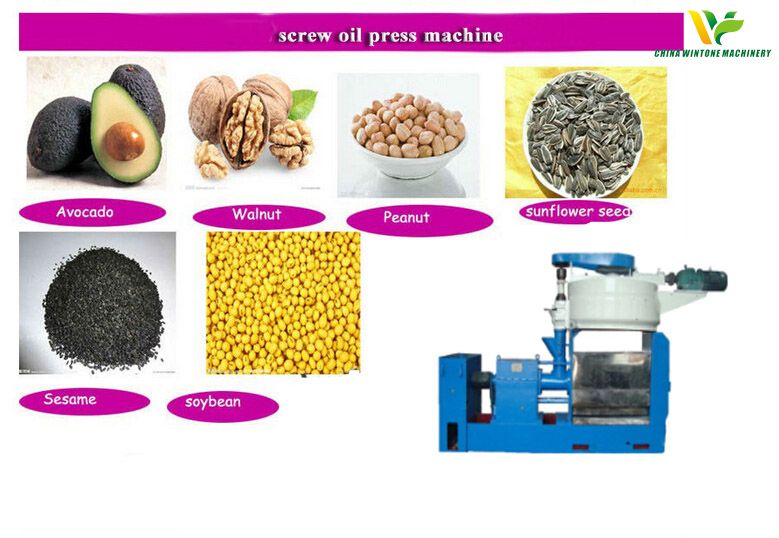 Screw oil press features:
1. Alloy steel is treated by carburization for improving its surface hardness and wear resistance.
2. Stainless steel is used on the surface to reach the standard of food hygiene.
3. Saving labour and covering small land
4. The oil can meet the standard of health guarantee.
5. It can squeeze 20 kinds of oil crops, such as, peanuts, sesame, vegetable seeds, soybean, oil sunflower, flax, etc.
6. Squeezing once with 3rd grade
7. This oil making machine model is include: oil press system, heating and filtering system.

---
Previous:
LYZX Series Cold Pressing Machine
---